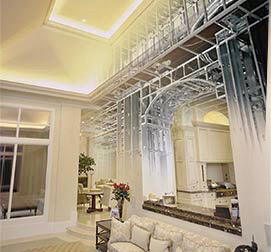 Drywall Pro-Finishing wins business due to proven ability to outperform within the industry. We are all about drywall services in the Greater Toronto Area (GTA). Our services also include: taping, mudding, and sanding. And, yes, we also do popcorn ceiling remouval.
At Drywall Pro-Finishing, we work hard to provide a purposeful, efficient, cost effective service that cannot be beat. Our ability to meet deadlines to meet client satisfaction has allowed our reputation to become the best in the Greater Toronto Area (GTA) and is recognized by major contractors.
We are about client satisfaction.
We have enterprising new methods of installation and old-fashioned ideals. We have over a decade of experience within the industry providing Drywall Installation and Taping, and also Drywall Replacement and Repair.
Drywall Pro-Finishing has achieved an excellent reputation for professionalism, high standard of craftsmanship and for consideration of accurate attention to detail.
Our aim is for quality and integrity in every undertaking & project. Our projects have been successful through winning many more repeat and new contracts. We guide our clients every step off the process, from the beginning, all the way until the project is Finished.
We have connections with all the major manufacturers, which enables us to source the right product for the job. All of our workers are fully trained and are experienced and with our team, we offer a good quality and reliable service.
Drywall Pro-Finishing operates in Toronto and GTA.