Indeed, finding a great drywall company can be a challenging task. Most people do not know where to start. Finding a company is just the beginning. As discussed in our previous newsletters, you can find one online. But, what are the next steps? You find yourself asking: "ok, I found a company but what do I have to do next?" and "Do I just make a work order and that's it?". The answer to the second question it is not as straight away as this. Today we are going to discuss what we have to do after you have found a drywall company that you might be interested in.
After you have found a company, you should ask yourself this: how are they experts or specialists in drywall? First have a look at their projects and ask them what & where they have serviced. Here's a sample project from Drywall Pro-Finishing: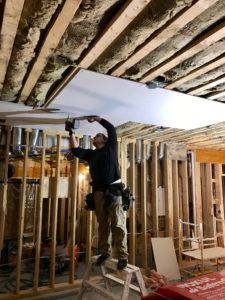 As you may observe we carry out extensive projects on properties throughout the Greater Toronto Area (GTA). We have been in the business for a long time now, carrying out large-scale projects like this consistently throughout the years. After looking at the portfolio/ projects, the next question you should ask yourself: "are they are experts in answering drywall service related questions?". Based on the conservation that you will have with the company, you will be able to tell better the expertise of the people you are in contact with and be convinced that they are specialists.
Following your observation and contact with the drywall company, you will further have a better feel when they make an on-site visitation. We, at Drywall Pro-Finishing, make an on-site visitation & assessment of the project. Once our crew has arrived, you will be able to explain what needs to be done and the response & pricing that you receive from the service providers should finalize your decision.
There is some research involved when it comes to finding the right drywall experts & specialists near you but afterwards the Drywall company should take over and fully complete project for you. You will be able to tell their expertise in how they handle the tools & equipment and install the drywall in your property. And once the work is finished, you should be saying: this is exactly what I was looking for! But, it is not over yet until the project is fully completed and everything has been cleaned up and you can sit back and enjoy your newly installed Drywall.
Let us finish your drywall goals & projects for you. At Drywall Pro-Finishing we are drywall experts and specialists are dedicated to bring to you 100% professional construction services. If you are interested in getting in touch with us or to find out how we can put a Finish to your drywall contractor search, contact us today! We are always looking forward to be hearing from you and as always we would like to personally wish you all the best in your construction endeavors. Stay tuned for more information on drywall-related news, advice and much, much more! Stay constructive, our friends!