In our previous newsletters we have discussed how to find a good drywall installation company, what is drywall & stucco and how to install a drywall. Today we will get into how the finished product should look like and do a review of the process of getting the work done. Indeed, doing a drywall installation project is challenging; this is why we have make sure we have all the tools at hand before we set off for the construction of the wall. But, having all the material is not enough. You have to prepare for everything; you have to make your walls ready to last.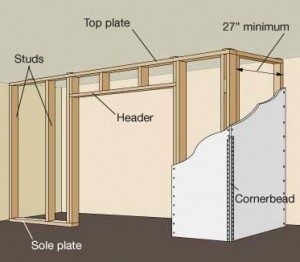 Firstly, you must consider if there is going to be any wiring that is going to go through the wall. And most likely you do want an outlet or a cable to run through it. You will have to prepare space for these objects by installing beams and frames. At Drywall Pro-Finishing, we have a keen eye for such details, so that problems like this wont arise later. We also look out for moisture. We take this very seriously, and we make sure any holes or gaps are covered properly so that moisture does not add up. If you leave it alone, it later on becomes mold. And we avoid that at all costs.
Secondly, professional drywall installation also means providing other serves that are related to drywall. We also offer taping and mudding services. Now let's go back to the begging and discuss how to install a drywall and the process of it.
Install the frame
Attach studs that will hold the drywall
Insert the drywall and fasten it into the studs
Make sure the drywall is sturdy in its place
As you may observe, there is a lot of measuring and cutting to do and you will definitely need the equipment for that. Why go through the hassle of getting it and worry about handling the material when you can hire a drywall installation company to do it for you? With years of experience, we know how to get things done right in a timely manner. Our overseer, Slava, knows the ins & outs of the trade so that you don't have to worry about the project and can sit back and watch it being finished. This is why we are called Drywall Pro-Finishing. Indeed, we finish the job once and for all.
If you are interested in our drywall installation services or need more information, we would love to hear from you! Please feel free to contact us today to hear about how we can finish your drywall company search today. We service the Greater Toronto Area & beyond, so why don't you contact us today? Please stay tuned for more advise, information & news about drywall and related services and, as always, we wish you all the best in your future project endeavors.