About Us
DRYWALL INSTALLATION/ REPLACEMENT/ REPAIR
Everything is done professional right before your eyes
Drywall Pro-Finishing is a drywall Installation and taping company known for quality residential and commercial work. That is because we provide a high-quality finish and take the time to do the job right. Our projects are never complete until you're 100% satisfied with our work. We won't leave until you're happy because it's just that important to us. Drywall Pro-Finishing company offers very competitive prices for a range of services: supplying and installing drywall, and insulating to finished drywall ready for paint. We proudly offer the following services for our valued customers: • supply and install drywall • taping, mudding, sanding and suppling all related materials • popcorn (stucco) removal and smooth ceiling and much more... All projects are kept clean and are conducted in a safe manner. Drywall Pro-Finishing company prides for quality, its experienced team of tradesman, and competitive pricing.
What people have to say ...
From Max G.
We hired Drywall Pro-Finishing to do the drywall installation and taping for our new custom house. The company was refered to us by a friend. We are extremely happy with the service that was provided. Everything was done on time and with a very high quality finish. We want to take this opportunity to thank Slava for his amazing work. We would recommend this company to everyone. Thanks again.
From Nick V.
Recently finished renovation project for one of my clients, was recommended to use Drywall Pro-Finishing to do drywall installation, taping & mudding. Free estimate was done the next morning and reasonable price was given for the amount of work that had to be done. Four days later, as promised, project was completed! Quality was amazing! Client was satisfied! I recommend Drywall Pro-Finishing!
From Vlad P.
It was my second custom build house. My first house (drywall boarding/taping and muddling) was completed by other company & I wasn't really happy with final product. I received 4 different estimates from other companies and decided to hire Drywall Pro-Finishing and never regretted it. The project wasn't easy: boxes, openings, cathedral ceiling, skylights. The team is professional, organized & very skilled. 
ALRIGHT, I WANT DRYWALL PRO-FINISHING!
Drywall News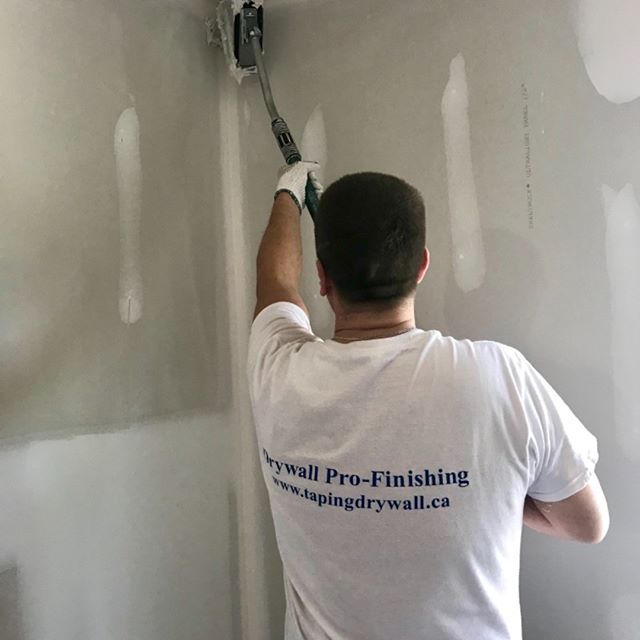 The holiday season is approaching and you might be looking at your walls and finding holes in them that you want to fix before your guests arrive. In today's newsletter we are going to discuss how to cover them up before they get there. Please note, these are instructions for minor cracks or holes and Read more about How to Repair a Drywall[…]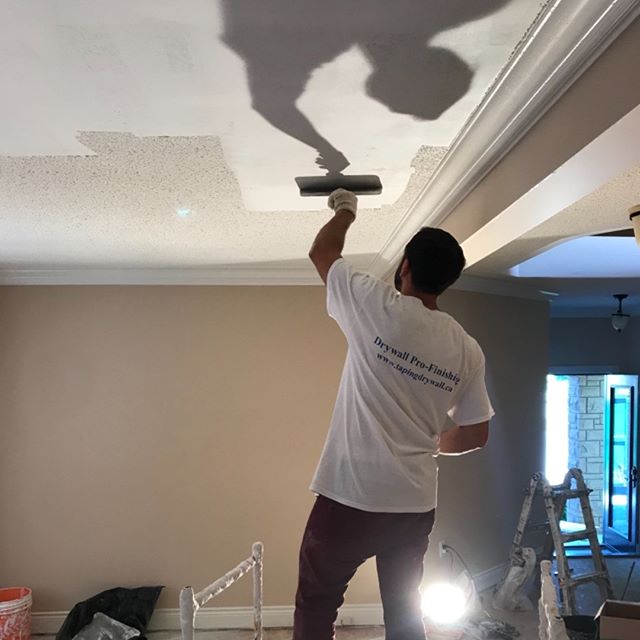 The festive season is fast approaching and you might find yourself thinking about home improvement before Christmas begins. You are inspecting your property and you look up and you see a popcorn/ stucco ceiling. You might say to yourself: "boy, would I love to get rid of that old-fashioned texture!". "Besides, it would be great Read more about Popcorn ceiling removal in your area[…]
Previous
Next
FREE QUOTE
Please provide measurements & as much info you desire and we will get back to you ASAP